This is a log of all updates to Pixel People
---
iOSiOS - AndroidAndroid
---
3 Jun, 2014
4 Dec, 2014
1 Apr, 2015
Version 1.93 released!

JOBS JOBS JOBS - 20 additional genes to discover, 400 types in all!
FAIR PLAY - New buildings and decor to unlock
DO IT MOAI WAY - A monumental easter egg to discover
SIN OF A MISSION - more missions to complete!
21 Apr, 2015
12 Feb, 2014
It's Utopia's first Birthday, and we're going to celebrate our survival as a species with a brand new Content Update! Please keep your feedback and suggestions coming to support@lambdamugames.com, and we will continue to work on making the game better with each update!
CONTENT
MORE JOBS! Now collect 365 unique professions (including special genes)!
CONTENT OVERLOAD! Over 40 new splices, 2 new Special Genes, 10 new buildings, and lots more decor and missions!
THEME PARK PARTY! Build your own little wonderland within Utopia!
DIG DEEP! Museum reopens for business. A new set of wonders and mysteries to discover!
LOVE IS IN THE AIR: Get the Romantic again, if you haven't already found him!
CHANGES
Broadcast Station gains ability to hide idle News button.
Winter ends. It can now only be triggered via the Winter Fort, or by buying the event from the Event Center.
Special genes added to Gallery.
Utopium can no longer be traded. Mutopium can be.
Bug Fixes
24 Feb, 2014
Version 1.81 released!

Corrected a genetic defect that was causing a handful of clones to develop a nudist streak
Hotel Utopia renovated with higher resistance to clone-consuming black holes. Premises now safe for use.
Jungle Dweller gives up futile attempt at Castle life. Now comes with Cabin in the Woods, as destined.
Adjusted the Spirit output of a certain overzealous Ticketing Booth
Minor text updates to Easter Bunny, Abomination, Lumber Mill, for better accuracy and clarity
Engage function now displays engaged state correctly, removes notification icon as intended
Fixed a bug where some users would lose Mutopium on update
12 Mar, 2014
Version 1.82 released!

MAYOR STATUE – We wanted to reward your hard work with a statue of...well...you! Mayors downloading the latest update before March 19th will get a free limited edition Mayor Statue as well as 48 hours of bonuses and perks.
Bug fixes
20 Mar, 2014
Version 1.83 released!

Greetings Mayors! Please keep your feedback and suggestions coming to support@lambdamugames.com, and we will continue to work on making the game better with each update!
Minor bug fixes
4 Dec, 2013
Version 1.70 released!

New Winter event upon update!
Minigame Mayhem
Reindeer Games
New genes
New buildings
LOADS of new decor and landscaping options
New Event Center
10 Dec, 2013
Version 1.71 released!

Reindeer games can be played in your own town once per day
Updated the heart-to-winter exchange rate at the Winter Fort
Increase coin cap!!
Ballpark can now handle Billions
Additional zoom level included for certain devices
Santa appearance frequency improved. Santa now reappears much sooner if you miss him.
19 Dec, 2013
Version 1.72 released!

Fixed a bug that caused the game to crash upon completing the Deer Santa mission
Fixed a bug affecting timers overflowing into midnight
Fixed a bug that prevented reactivation of halloween event
Reindeer names now appear in Santa's packages
Send your feedback and queries to support@lambdamugames.com and follow us on facebook for the latest updates! www.facebook.com/lambdamugames
23 Oct, 2013
Version 1.60 released!

ZOMBIE TIME
New missions
New Jobs
Embassy
Additional Arrival Center available for purchase
Gravity Garden by completing a new mission
Changes and Improvements
Bug fix
7 Nov, 2013
14 Aug, 2013
Version 1.50 released!

Visiting friend utopias
Exchange animals and utopiums with friends
Sync with Facebook to play online or offline across device
New jobs
New animals
New buildings
The Greenhouse, Casino, Animal Shelter, Beach House, Altar and Arcade have new special abilities
Bug Fix (including Easter Eggs Mission)
16 Aug, 2013
Version 1.51 released!

FIXED issue with disappearing Utopias after recent update
22 Aug, 2013
Version 1.52 released!

+25 Utopium to all Mayors who update!
Cities can always be loaded and played offline
Unfinished content from future updates removed
Tattoo artist spellcheck issue resolved
Minor adjustments and tweaks
The tremors caused by our recent expansion are now banished
2 Oct, 2013
Version 1.53 / 1.5.3.2 released!

13 New characters in the Baker's Dozen
5 New buildings
Discover decor in the Utopian seas
New missions
Bug Fix
Changes and Improvement
10 April, 2013
Version 1.40 released!

Find 9 Easter Eggs before April 30th to unlock the new Easter Bunny gene
Unlock the Secret Hideout and figure out 14 now secret jobs
New Missions
6 new buildings
4 new animals to adopt
All new Special Events triggered by certain buildings
2 May, 2013
Version 1.41 released!

All trees now display daily Utopium collection status
Utopium collection clocks reset at midnight
Reserved options for both animal and residential slots
Premium mission slot locked until Mayors have a really bad run at the Casino
5 Utopium and 5 land rewarded
New Achievements included!
Double Time Purchase now comes with a neat new ability!
Decor split into 4 categories for easier navigation
Easter Bunny event now available at Gene Pool
Heart related events given better conversion rates
Mission Control allows skips when 3 unique missions remain
Bug fixes across the whole game

On first play after update you are gifted 3 started 1 hour events (Funfair, Bumper Season & Utopium Leak).
Gold Plaza statue changed to golden Minotaur & Silver Plaza changed to blue mermaid.
Caterpillar image changed
26 March, 2013
Version 1.30 released!

55 new jobs
9 special genes
13 buildings
Over 40 missions
Better coin conversion rates
Bug Fixes and Gameplay Tweaks
and MORE
22 February, 2013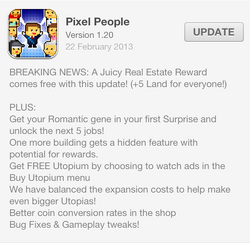 Version 1.20 released!

+5 Land for everyone!
Romantic gene will unlock in your first special suprise (if not obtained yet)
New hidden feature: TV Station

Free Utopium after watching ads

Expansion costs balanced
Better coin conversion rates
Bug Fixes and Gameplay Tweaks
Holiday Icon Removed
13 February, 2013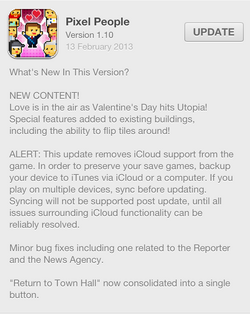 Version 1.10 released!

Valentines Day Update

Tiles Flipping (requires School of Magic)
New special gene type: Romantic
New Professions

Wedding Singer
Jeweller
Matchmaker
Dating Advisor
Chocolatier

New building: Dating Agency
New Game Icon
iCloud support removed
Bug Fix
22 January, 2013
7 February, 2013
Community content is available under
CC-BY-SA
unless otherwise noted.