Welcome to the Pixel People Wiki!
The Pixel People wiki is about the Pixel People game for iOS and Android.

Pixel People is a free-to-play futuristic city building game developed by LambdaMu and originally published by Chillingo on January 22, 2013 for iOS. On October 21, 2014 the game was also released for Android. Currently, that first version of the game cannot be played anymore on most devices, since it is incompatible with iOS versions greater than iOS 10.

In 2019, developer Lamb Damu Pte. Ltd. remastered the entire game and relaunched it under their own name. Most game mechanics remain similar to the mechanics in the original game, but there are some slight differences: some special powers of buildings have been changed, animal splicing and Chroma have been introduced and missions can be completed by launching mission pods into the sky.

We are a fan-made site and not associated with Lamb Damu Pte Ltd. Since the game has been remastered, not all information on this wiki is 100% up-to-date with the new version of the game, but most of the mechanics, buildings, decor, trees, terrain, etc. are still present and working as before. We're working hard to get the rest of this wiki up-to-date and we could use all the help we can get, so feel free to contribute!
Welcome to the world of Utopia where YOU create the city and the residents. Greet new clones to Utopia at the arrival center, then find them a place in your new world. Splice genes of residents and combine their skills to discover new Pixel People to join your thriving city.
Variety is the splice of life
Money Money Money
Lots to do
Easter Eggs

Get the game for iOS here.
For sending bug reports, try to use the Support Center button at the Town Hall or leave a message for the developers on r/PixelPeople.
| | | | |
| --- | --- | --- | --- |
| | Collections | Construction | Game Mechanics |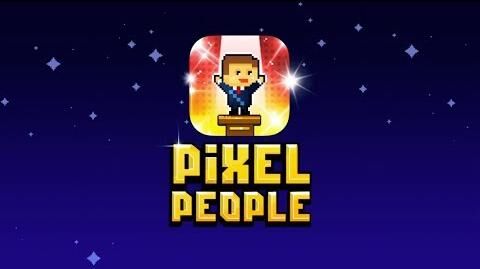 Pixel People was relaunched in 2019 by Lamb Damu Pte. Ltd. as a new game. The remastered version has many similarities with the old game, but also some differences. Most of the information currently on this wiki correspond to the old version, but we're on our way of updating all info to resemble the remastered version!
Page for Friend Request is finally available on Pixel People Wiki! Visit Friends for more details
Pixel People is now also available for Android!
Over 40 new professions to collect, version 1.8 is out!
New administrator appointed! Congratulations X37X37!
App Store Update! See Game Updates for more details
New Special Gene Easter Bunny. Collect all the Easter Egg in order to obtain it before April 30th! See Game Updates for more details
App Store Update! More Professions and MORE! See Game Updates for more details
Brand New Look and Infobox on Pixel People Wiki!
Infobox Design for this Wiki here!!!
New Poll for voting! Click here to see the last voting results.
App Store Update! See Game Updates for more details
Pixel People Wiki is now eligible to appear on wikia!
Click Pixel People/Polls to see past results.